Introduction: In the field of mental and behavioral health therapy, tracking client progress is essential for improving treatment outcomes and providing evidence-based and feedback-informed care. Utilizing routine outcome monitoring through tools like the OQ45.2 (Outcome Questionnaire 45.2) enables us to measure progress, identify at-risk cases, and enhance the effectiveness of our interventions. At Legacy Treatment Center, we are committed to utilizing outcome-tracking methodologies to ensure our clients receive the highest quality of care.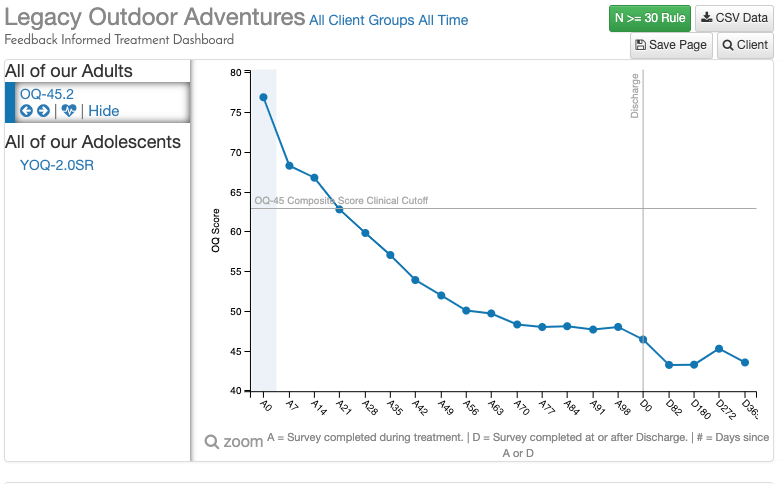 The Power of Routine Outcome Monitoring: By using the OQ45.2, we gain valuable insights into our clients' progress during treatment. This measurement tool allows us to assess client distress levels, compare them to their personal baseline, and benchmark them against normative groups. With the Remote Research Director Dashboard, our clinicians have access to real-time data and problem-solving tools, empowering them to make informed decisions and improve treatment outcomes.
The Gold Standard in Outcome Tracking: The utilization of OQ measures in this manner is widely recognized as the gold standard in outcome tracking methodology for mental and behavioral health therapy. Founded on 35 years of research and guided by experts such as Dr. Burlingame and Dr. Michael Lambert, these measures provide a comprehensive assessment of treatment progress and client outcomes.
Legacy Outdoor Adventures: Recognized for Tracking Client Outcomes: Legacy Outdoor Adventures, as a Research Designated Program (RDP), has been honored for its successful efforts in tracking client outcomes. This recognition by the NATSAP (National Association of Therapeutic Schools and Programs) board highlights the importance of outcome tracking and underscores Legacy's commitment to providing evidence-based care.
Interpreting the Graph: When we examine the graph, it becomes clear that clients entering Legacy Treatment Center are reporting high levels of clinical distress. However, by Week 3, notable gains are observed, indicating the effectiveness of our treatment approach. We track progress on a weekly basis, ensuring continuous monitoring of client well-being. As treatment progresses, clients graduate within the normal function range and well below the clinical cutoff. Importantly, our clients maintain clinically significant treatment gains even at 6-month and 12-month post-treatment.
Conclusion: At Legacy Treatment Center, we recognize the significance of tracking client progress to achieve optimal treatment outcomes. By utilizing tools like the OQ45.2 and the Remote Research Director Dashboard, we empower our clinicians with real-time data and valuable insights. Our commitment to tracking client outcomes has been recognized by the NATSAP board, cementing our position as a Research Designated Program. Through evidence-based and feedback-informed treatment, we strive to make a lasting impact on the lives of our clients, ensuring their continued well-being even after completing their treatment journey.